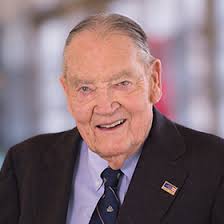 The investing world lost an innovator and advocate for small investors everywhere when John Bogle passed away on January 16, 2019 at the age of 89.  Known affectionately throughout the investing world as Jack, Bogle rose to fame as the founder and former chairman of the Vanguard Group, located in Malvern, Pennsylvania.
Jack Bogle is credited with launching the first index fund based on the S&P 500 index back in 1976. Bogle's thoughts on index investing appeared two decades earlier, however, in a seminal thesis written by Bogle before he graduated Princeton University in 1951.  The launch of Vanguard's index fund in 1976 is widely credited with the rise of passive investing and lower costs for investors, and has forever altered the power structure of the investing landscape, providing more choice and lower costs for individual investors.
As index funds and similar strategies have become more pervasive, passive investing has become more popular among investors in the past two decades.  With their focus on minimizing costs and an emphasis on buy-and-hold strategies, index funds have led the charge in reducing investors' costs during that same timeframe.
Vanguard mutual funds and their creator, Jack Bogle, have become so popular that they even have their own fan club led by investors who call themselves "Bogleheads."  Bogleheads even run their own blog website touting the merits of Vanguard's investment philosophies in addition to other financial topics.
Bogle's influence extends far beyond the Vanguard mutual fund complex.  Many other mutual fund companies have lowered the fees on their mutual fund offerings.  The low-cost focus has even led to the creation of exchange-traded funds (ETFs) which provide another class of low-cost investment choices to investors.  Dimensional Fund Advisors" (DFA) investment philosophy and strategies have also been heavily influenced by Bogle and Vanguard's investment approach, particularly in the emphasis of low-cost investment choices.
John Bogle received many tributes and accolades at the time of his passing, including some who have praised Bogle for being the most influential person in investing and finance in the twentieth century.   Whether or not John Bogle is the most influential persona of the twentieth century in investing is a question for debate, but the contributions that Bogle has made to the finance industry and the power that he has given to individual investors are undeniable.