Social Security recipients will receive the largest annual raise in Social Security benefits in seven years when their monthly checks increase by 2.8% in early 2019. The Social Security Administration announced the increase after the October release of consumer price index data for September.
The 2.8% increase represents the largest Social Security COLA increase since the 3.6% increase for 2012. Over the past decade, Social Security COLA increases have ranged from a high of 5.8% in 2009, to lows of zero that occurred three times, in 2010, 2011 and 2016.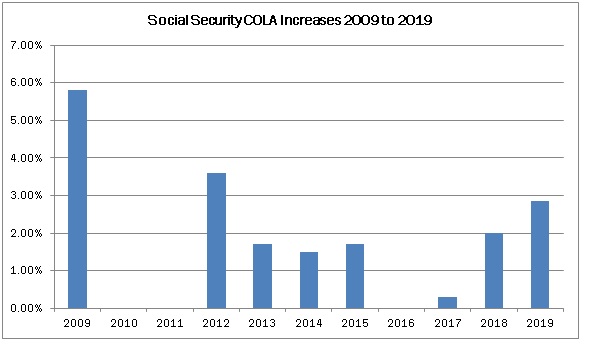 The 2.8% increase will add $39 a month for the average Social Security recipient, and increases the average monthly benefit to $1,461 a month in 2019. The 2.8% increase raises the current maximum benefit amount by $78 to $2,788 per month for someone who claims benefits at full retirement age.
Americans saving for retirement also got some good news this fall from the IRS. The amount that Americans can defer for retirement in their 401(k), 403(b), Thrift Savings Plans and most 457 plans has increased to $19,000 for 2019, up from $18,500 in 2018. Americans over age 50 can put away an additional $6,000 in 2019 as a "catch-up" contribution.
Similarly, the amount that can be saved in Simple IRA plans has also increased by $500 in 2019. The limit for Simple IRA plan contributions is now $13,000.  The contribution limit for Traditional and Roth IRAs has increased to $6,000 in 2019 from $5,500 in 2018.  Americans over age 50 can save an additional $1,000 as a "catch-up" contribution.
Have questions about your Social Security benefits or how to best save for retirement? Contact the financial planners at Bollin Wealth Management at 419-878-3934 to get your questions answered.
Sources:  IRS.gov, SSA.gov